Acrocorinthos Castle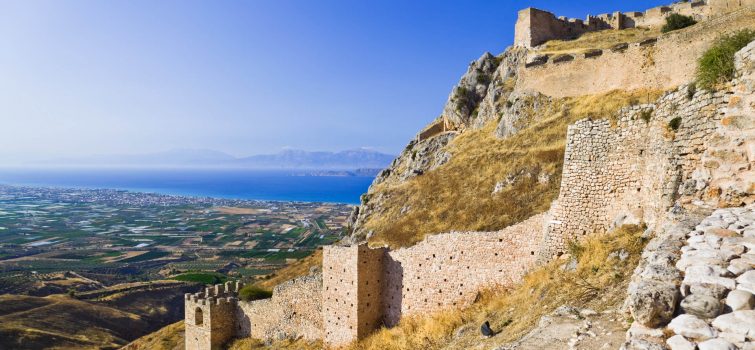 Akrokorinthos is a rock of 579 meters above sea level, dominating the Corinthian plain. Ancient Corinth was built at its foot. The rock, due to its morphology, has been used since ancient times as a castle (acropolis).
History
According to Greek mythology, the owner of the area was the god Helios. The estates under Akrokorinthos (where Korinthos was later built) gave it to his son Aiti, but Akrokorinthos, which was the privileged point of the area, gave him 240 acres to the goddess Aphrodite. Venus was not touched by this gift, since it was clearly better at Olympus. To honor the goddess, Medea built a temple at the top of the Acrocorinth. It was a humble and unpretentious building but the situation changed dramatically when the water arrived there. This was the feat of Sisyphus, the cruel king of Corinth, when he once saw Zeus kidnapping Asopos' daughter. He told Asopos hiding, in return to solve the problem of water shortage on the hill. Thus, Vrachos acquired its first fountain Pirene.
Akrokorinthos was fortified for the first time by the tyrant Periandros and his father Kypilos in the 7th-6th century BC. and slowly evolved into an Acropolis. The Macedonians in the 4th century BC repaired and reinforced the walls. In 146 BC. the Roman general, Lefkios Mohamis Achaikos, destroyed Corinth and its acropolis when he captured Greece. Julius Caesar repaired the castle in 44 BC.
Another repair was made in the 6th century on the reign of Justinian and some additions were observed until the 12th century.
In 1210 the castle was occupied by the Franks after the defector of Leo Sgouros had committed suicide by jumping on horseback from the walls. The Franks carry out many repairs.
Then Acrocorinth changes hands. It is consecutively assigned to the Italian families of Gravina and Atsagioli to eventually end in 1395 to Theodoros Palaiologos, Despot of Mystras who inherited the castle from the dead father-in-law of Nerio A 'Atasaioli, Doukas of Athens. Theodoros sold it for economic reasons to the Knights of Ioannina who held it until 1404 and returned it.
In 1458, Mohammed II the Conqueror captured the castle that was defended by Byzantine Matthaios Asan. In 1687 the castle passed into the hands of the Venetians who repaired it and gave it its present form. A few years later, in 1715, the Turks besieged Akrokorinthos and occupied it. The castle remained with them until 1827 when it was delivered to the Greeks.
See Acrocorinthos Castle from above (Drone)