Lechaion Harbour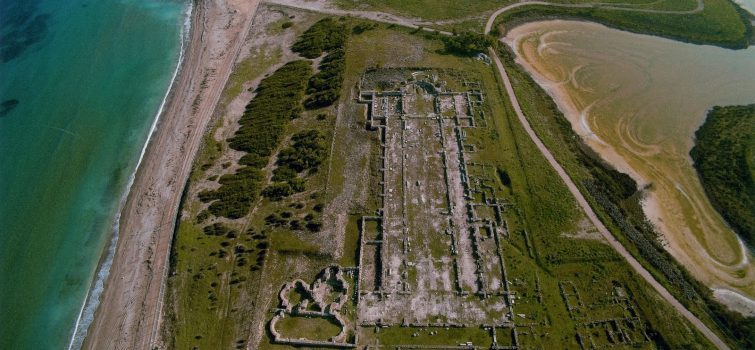 Ancient Corinth had two flourishes: one was Lecheon, or "Western Harbor", in the Corinthian Gulf, and the other is Khekrias, or "Eastern Harbor", in the Saronic Gulf. The road connecting the seaport (Lecheon) and the city (Corinth) is referred to by Pausanias as "a guide of the leech" [1] and was fortified with Long Walls, two parallel walls on both sides of the road. 4] [5] Another example of "long walls" are those that joined the city of Athens with its port, Piraeus.
On the northern coast of Corinth (as well as on the north coast of the Peloponnese) there are no natural harbors (naturally protected coves) because of the coastal geomorphology. For this reason, the port of Lechaios is entirely artificial and has been characterized by researchers as "cometh" (a type of artificial harbor, with a network of artificial harbors.) [7] [8] [9] Today the port area is sand The "commeth" is generally characterized as a Phoenician type of harbor, but two similarly constructed ports have been identified in Greece, one being Lecheon and the other in Falassarna, Crete. [10] The first harbor works in Lecheon are estimated to have taken place 6th Century BC [11] [7]
His importance in antiquity is understood in conjunction with Dilko. The ships were unloaded at Lechaio, the goods and the ships were transported by land to the Cigars in the Saronic Gulf, where they were launched and reloaded. The same thing happened in the opposite direction.
The parts of the harbor are:
Two external piers. To the north of the area are still visible two piers with a surface of carved stone.
The entrance. To the east of the outer moles, two walls of carved stone define the entrance of the "inner" harbor.
The inland port network. The lack of a natural harbor in the area has prompted the creation of an artificial, large-scale port project where various basins were excavated to the desired size and depth and then joined to the sea. Measurements of 2012 showed bottom depth for the main port 2.4m. [54]
Two artificial hills The excavation grounds of the harbors were used to create two hills on either side of the entrance.
The square construction. A square construction is immersed in the center of the largest inner harbor. Researchers have suggested that it could be the base of the beacon or that it is the basis for an important monument, but no affair has been confirmed.
The basilica with a baptistery. The ruins of the basilica are still visible today, and so far it is the largest temple of royal architecture that has been discovered in Greece.
Lechaion Harbour Project